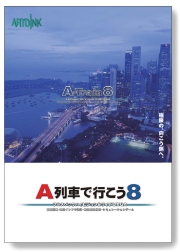 .: SCREENSHOTS
.: DESCRIPTION
In A-Train 8, players will manage a railroad company, while acting as mayor of the city. The aim is to create the best public transport system possible, manage them and adapt fares to successfully improve the city though the year, taking into account the different seasons and the effect they could have on the system you create!
.: FEATURES
* Real replicas of trains with an inner view of the locomotives
* Approx thirty preconceived maps that can be modified and enlarged
* City editor with a choice of 120 buildings and 53 trains
* Innovative stock system exchange with 50 companies
* Changing seasons and moments of the day
* Options to integrate your own music in game
* Permanent evolution of the game to create a consistent network
* Train Window Mode
* Detailed management
* Map construction option
.: HOW TO INSTALL:
1. Click on SetupA8.exe
2. Follow the screen instructions
3. Copy all files in the Crack folder into install folder
4.
In the game insert a name and a e-mail
5. Play
.: MEGAULOAD:
Code:

www.megaupload.com/?d=77AU08VP
www.megaupload.com/?d=6T8562FI
www.megaupload.com/?d=8B41R6TE
www.megaupload.com/?d=JXKBK1NQ
www.megaupload.com/?d=PBIPCMUK
www.megaupload.com/?d=E9Y5ZOOW

I HOPE SOMEONE CAN UPLOAD IT TO RAPIDSHARE !!!
.: CRACK FROM ME (GERMAN):
Code:

http://www.megaupload.com/?d=8T2C78XE
.: CRACK FROM ME (ENGLISH):
Code:

http://www.file-upload.net/download-1620677/A8MediEN.rar.html

SAY THANX !!!
:mrgreen: